Youth forgives everything, they say – your mistakes, carelessness, immaturity. Being young and entering the university feels like a breath of fresh air: sleepless nights, big parties thrown every week, and not so much responsibility compared to the already working class in their mid-thirties. Ever since I got accepted to the university, I was mesmerized by the people around me, the entertainment, and the opportunities to learn and develop myself academically. Although I had big goals and dreams in terms of career prospects and education, I did not have a single idea about how to achieve them systematically. That was until I bumped into the book with a catchy heading "Why your twenty-somethings matter- and how to make the most of them Now". The book's annotation was so relatable that I immediately downloaded it from the market. Not to spoil anything, but the book indeed becomes a good adviser in almost every aspect of my life.
The Defining Decade by Meg Jay is an insightful book that explores the critical importance of our twentysomethings in shaping the way we live. As a clinical psychologist, Meg Jay, from her extensive experience, offers arguments for why the twenties matter more than we often realize. She presents a compelling mix of research findings, real-life stories from her patients, and practical advice that makes this book an invaluable resource for young adults navigating the complexities of adulthood. In her book, Meg Jey discusses different aspects of our twenties, including self-development tools, career choices, and relationships. She emphasizes the importance of your twenties as a period for making purposeful decisions and highlighting that the choices made during these years can significantly impact future happiness and success. In other words, the author encourages readers to view their twenties as a time of growth, self-discovery, and opportunity.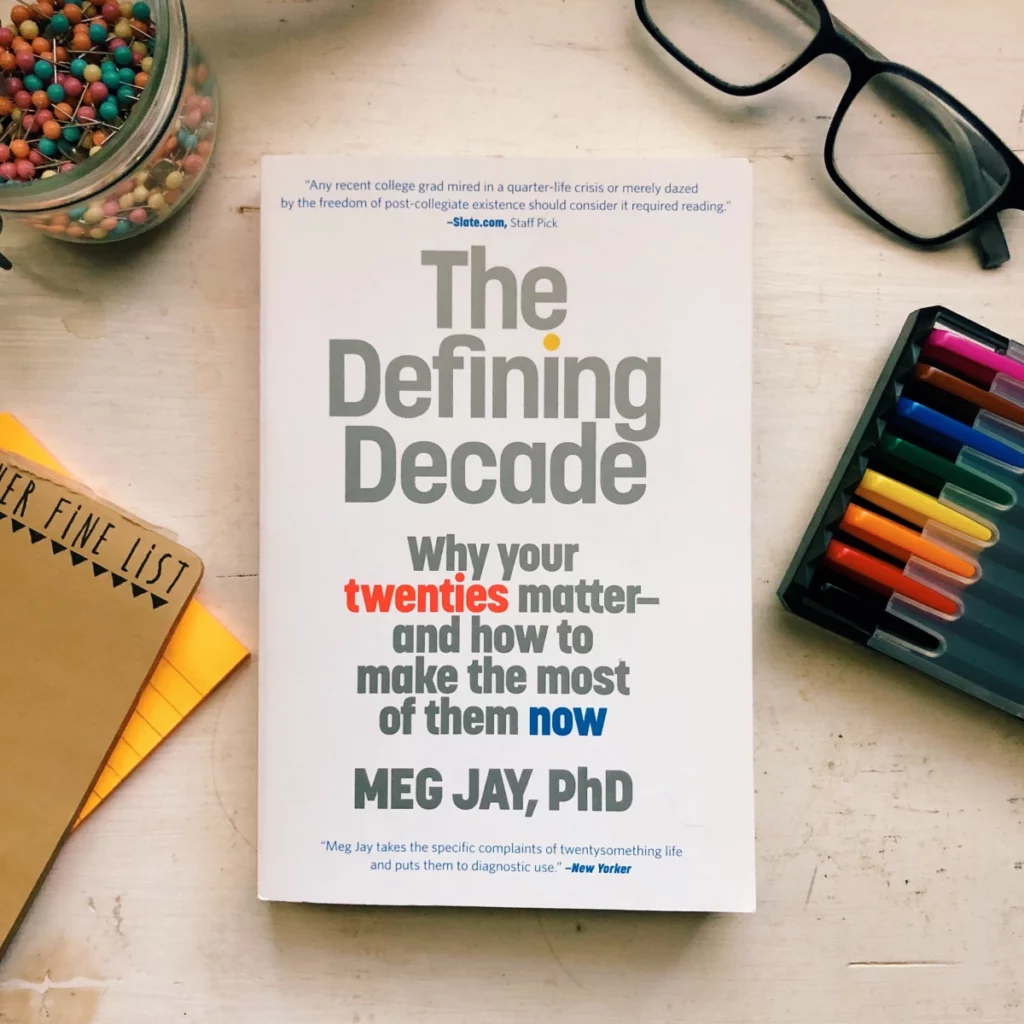 I believe that one of the most outstanding features of this book is how the author can efficiently deliver her message. She does not use complex language (which is typical for psychology books) and exemplifies every insight in conversation with her patient, making the message applicable and relatable. She offers practical advice on topics related to healthy relationships, marriage, how to start your career path and the role of therapy, all while challenging societal pressure on youth.
Since I read most books electronically, and this book was no exception, it is easier to highlight relatable situations and write key points in notes. One of the most relatable and insightful points for me was about identity capital: Meg Jay suggests that it is better to pursue unusual and interesting jobs rather than traditional ones. She gave the example of a girl who had a choice between working part-time in a café as a waiter and as an intern in an animation studio. While working as an intern in a studio, you are more likely to open your potential to different spheres, expand your network and gain valuable skills. Do not be afraid of having insufficient experience or a different degree – just give it a try.
As a girl, who is entering her twenties next year, this book felt like guidance from an older figure. Almost all university students are in their twenties or thirty-somethings, so I would genuinely recommend this book as an inspiration as they navigate the complexities of early adulthood. Even if you are much older than your twenties, it is never too late to learn and to start again. So, despite the title of the book, it is a must-read for anyone seeking guidance and navigation throughout their life.
Photo: medium.com